National League of Junior Cotillions
Alpharetta Johns Creek Chapter
Welcome
CURRENT STATUS FOR 2018-19 SEASON - Full. Season began in September. Please check back in March 2019 for the 2019-20 season.
Yr 1A AND Yr 1B- FULL for both class. NO longer accepting students for this season.

Yr 2 - FULL for 2018-19. NO longer accepting students for this season.
EARLY REGISTRATION for Legacy families will not be available with code until January 2019
"NEW" STUDENT REGISTRATION for the 2019-20 season will began on March 1, 2019. Registration will require full tuition or a $100 deposit payment to confirm a placement. If you choose to pay by PAYPAL please do so at time of registration to be sure the payment links to registration. A service fee is paid to PAYPAL at time of payment. Tuition is non refundable after our final RSVP date.

We offer TWO Year I classes and ONE Year II class. (approximately 60 students per class - 30 young ladies, 30 gentlemen) To increase chances of being admitted- a gentlemen may sign up with a lady or visa versa. "Please note this when registering". Both students must register on the same day or within 24 hours of each other.
We reserve the right to assign class Year 1A 2-3:30pm or Year 1B 4-5:30pm to allow us to balance classes with 50-50 ladies and gentlemen as well as group school friends together. It can be a puzzle to coordinate, so we appreciate your indulgence in this matter.
Year I & II -The 5 instructional Class/dances are held at the Medlock Bridge Clubhouse located at 10150 Groomsbridge Road, Johns Creek. These classes meet one Sunday a month in September, October, November, February and early March. There are two Year I classes and only one Year II class. For more information please refer to the ABOUT page.
Both Formal BALLS are held at the Country Club of the South - January and late March.
The Year II -Formal 5 Course Instructional Dinner will be held at the Country Club of the South
Confirmation of pre-registration will be emailed with status. Once accepted into the program, the student's invitational mailing will include a tri-fold brochure with dress requirements, important notes for parents and all dates for the season. Please keep this brochure handy as it is chock full of useful information. Email updates will be sent to parents throughout the year and may also be found on this website.
ALLERGIES- The director will not be held responsible with respect to accommodating food-born allergies. Please be advised that refreshments do not contain nuts, but are not guaranteed to be made in a "nut free" environment. If your student has any foodborn allergies, please send an appropriate snack item in a marked bag for each class. We will ask the chaperones to make sure the student receives the item during our refreshment break. Refreshments are served at each event and class.
Announcements
NOTES FOR PARENTS:
WHITE GLOVES - Year 1 young ladies are required to have short white gloves for the 1st class and both Balls. Year 2 young ladies may choose to wear at both Balls.
May be purchased at Party City, Claire's wedding stores or ordered online May we recommend - Western Band Specialities www.westernbandcom ($1.95 per pair)

WINTER BALL- Reminder emails will be sent to all parents. REGRETS ONLY- BY PHONE. Please have student call if unable to attend. (Formal printed invititations are only extended for the Spring Ball requiring a formal written RSVP)

WHITE SHIRTS -Gentlemen are required to wear white shirts with coat and tie for the Winter Ball.

GRAND SPRING BALL - Written RSVPs required. Semi-formal attire required for all students. Tuxes for gentlemen. Party dresses for young ladies with short white gloves. We request dresses be white, off white, cream or light pastel. Small patterns are fine. Dresses may be to the knee, mid calf (tea length) or to the floor, allthough recent trends have not been floor length. Parents are invited to attend the last 30 minutes of the Spring Ball to dance with their students and take photographs.
BUDDY BAR SERVICE PROJECT
It's time to give back to our North Fulton community. Two years ago I had an idea that with the help of my cotillion students, we could provide some relief to students in need. NLJC Alpharetta Johns Creek Chapter, Holy Innocents' Chapter and St. Martins' in the Fields' Chapter collects GRANOLA and healthy Snack Bars for students who have limited means. Even in these times of economic recovery, there are many families whose children are on free or reduced lunches. These families do not have extra money for healthy snacks between meals at school or on the weekends. Often teachers and school administrators will purchase snacks out of their own pocket to help a student in this situation. In two years, we have supplied over 8,000 bars to students in 6 different schools. The program has even been expanded by several enterprising cotillion students who have taken the "Buddy Bar" project into their schools and expanded the program. I am so proud of them. Here is how it works.....
Donate a Box or carton of Granola or Energy Bars.
"Buddy Bars" will go straight to several local schools where the need has been identified.
Collection dates - December Holiday Class/Dance and Grand Spring Ball in March.
Collection boxes at our "check in" desk.
Collection drop off locations - Moxie Buger locations both Roswell Rd and Shallowford Rd.
The Social Workers, Nurses, Teachers and Administratiors of these schools say "Thank you!" to all who have helped make this program a success.
We were very grateful to our NLJC Families for stepping up to fill this need. We hope to top this number in 2019-20!

About Director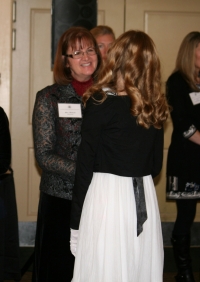 Melinda Belock has been the Director of NLJC-Johns Creek Chapter for ten years and the Holy Innocents' Chapter for eight. A native of Kentucky, Melinda grew up with many years of cotillion training in Lexington, Ky. She continued her training through the NLJC Director's program in Charlotte, NC.
A graduate of University of GA with a Bachelor of Journalism degree, she worked in Magazine Advertising Sales & Management. She enjoys working with young people and has been a Girl Scout Leader, a Sunday School Superintendent and Teacher, a Youth Leader and an Elementary School Assistant Teacher. Melinda became the Director for both chapters when the previous Director retired. This season we have added the St. Martin's Episcopal Chapter.
Jessie Belock is currently serving as Assistant Director. In 2006 and 2007 she attended NLJC-Alpharetta Johns Creek Chapter. She continued her training and became an Assistant while in High School, and upon graduating college rejoined the team. She enjoys working with and mentoring young adults.