National League of Junior Cotillions
Emerald Coast Chapter
Welcome


happy New year 2018!!!
High School and Premiere Classes for all current members resume This Saturday, Jan. 6th at the Niceville Community Center
High school class is from 11:30-2 pm
Premiere Class is from 3:00-5:00 pm
All Junior Cotillion Classes for current members resume Sunday afternoon, Jan. 21 at NWFSC.

Pre-Cotillion Information and Registration will begin in March for the Morning and Afternoon Sessions on May 29-June 1.
Pre-Cotillion1- students finishing 1st/2nd grades in May 2018, Pre-Cotillion 2-students finishing 3rd/4th grades in May 2018.
Registration for the 2018-2019 Cotillion Season will begin with online registration on April 15, 2018.
All regular classes held at Northwest Florida State College in Niceville, FL.
Parents: If you would like your son or daughter to receive a formal invitation to cotillion for the 2018-19 Season, please email me the following info to [email protected]:
Child's Name
Parents' names
Snail Mailing Address
Grade your child will enter in Sept. 2018
The Emerald Coast Chapter of the National League of Junior Cotillions was founded in 2015 to share the mission of NLJC of learning to treat others with honor, dignity, and respect. The program features instruction in Character Education, Dining Etiquette, Modern Manners, and Ballroom Dance.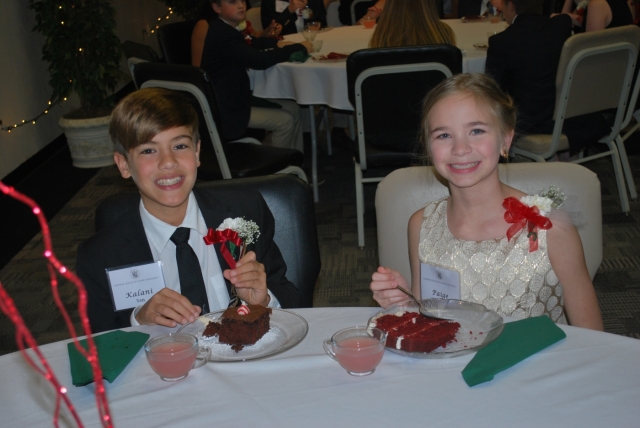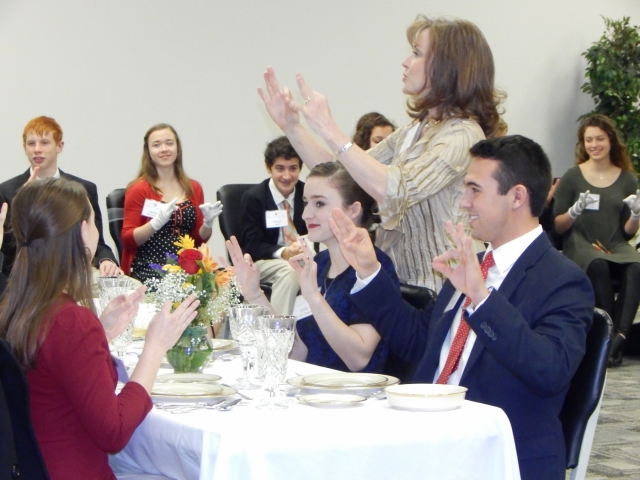 INFORMATION FOR PARENTS
The Junior Cotillion is designed to give young people instruction and practice in the courtesies that make life more pleasant for them and those around them. Social and character education components of the program include: Proper Telephone Courtesy, Introductions, Receiving Lines, Polite conversations, First impressions, Dress Code for all occasions, Manners in the Home and in Public, Table Manners, Formal Place Settings, Sports Etiquette and many other areas of social behavior. Dance instruction includes steps in the Foxtrot, Swing, Waltz, Cha-Cha and current line dances.
The Junior Cotillion setting encourages young ladies and gentlemen to interact comfortably together, make new friends, and enjoy themselves. After constant practice in a peer group, young ladies and gentlemen are expected to leave the program with confidence and poise that comes from knowing the proper etiquette in any social situation. Instruction in dancing and etiquette will be given throughout all sessions. The highlight of the year in Junior Cotillion for both middle school and high schools students is the Grand Spring Ball. In addition, high school students will also have Dining and Theatre excursions.
APPROPRIATE DRESS
CLASSES- All Junior Cotillion classes are dress-up affairs. Hair should be neatly combed and out of the face, fingernails clipped and clean, and shoes polished. Dancing requires hard soled, closed toes shoes; no athletic shoes or sandals. Flats are good suggestions for ladies. Ladies should wear conservative Sunday dresses or skirts that approach the knee, short white gloves, and dress shoes. Gentlemen should wear khaki pants, long sleeve-solid color dress shirts, necktie or bowtie, navy blazer and dark dress shoes with a smooth bottom. Men's Wearhouse in Destin in our official vendor for the gentlemen's attire.
Holly Ball- Ladies should wear knee length or longer party dresses in holiday colors such as red, green, gold, silver, or cream. White gloves and dress closed-toed shoes are required. Gentlemen should wear khaki pants, white dress shirts, holiday-colored ties, navy or black blazer and dress shoes.
Dining Outs and Theatre excursions(Premiere & High School Cotillion Club students only)- dress will be the same as for class.
Black & White Spring Ball- The Black & White Spring Ball is a semi-formal affair. Ladies in the Year 1 & 2 Classes should wear tea-length or full length white or ivory gowns and short or long white gloves. The Premiere student ladies will have the option to wear a black or white party dress, knee length or longer. The Premiere Gentlemen will wear the White Dinner Jacket Tux with black tie and cummerbun. The Black & White Ball for the High School Cotillion Club will be a formal affair with floor length dresses required for the ladies. Ladies' gowns must be white, ivory, or black. The High School Gentlemen's tux style is TBA. Middle School Gentlemen should wear black tie tuxedos with white shirts and black dress shoes. Men's Wearhouse in Destin is our vendor for tuxedo rentals.
STANDARDS OF CONDUCT
Members are required to conduct themselves at all times in accordance with the courtesies taught. The director reserves the right to request the withdrawal of any lady or gentleman who fails to show progress in this area.
Parents of Junior Cotillion members have a standing invitation to observe any Junior Cotillion session and are asked to chaperone one class and dance during the year.
Parents are encouraged to stress the importance of prompt arrival and departure for each event. The director will receive students no earlier than 15 minutes prior to an event.
Announcements
REGISTRATION is closed FOR THE 2017-2018 COTILLION PROGRAMs. Registration will open for the 2018-2019 Season After April 15, 2018.
All Students must complete online registration via the above toolbar. If a space is open in the class, , a Payment Page will appear. If you would like to pay online via PayPal please proceed ahead. There is a 5% additional charge to pay via PayPal.. If you prefer to pay by check please make checks payble to: NLJC Emerald Coast Chapter, P.O. Box 775, Niceville, FL 32588-0775. If the class is full, your child will be placed on the "Waiting List" and will be contacted when a space becomes available or not for the 2017-18 Season. There is no cost involved to be on the "Waiting List." Please contact the director if you have questions regarding payment or payment options. You may contact Mrs. Freeman via email [email protected] or by phone at 850-729-1440 or cell #974-8537
-Junior Cotillion classes are as follows:
Year 1 Cotillion(6th/7th Grade)- Open to all new students in grades 6 and 7 (Fall 2018) that have never taken cotillion. The time for this class is 2:00 pm. The tuition for this class is $320.00 for the first student and $220.00 for the second and third sibling enrolled in this class.
Year 2 Cotillion(7/8th Grades)- Open to all returning 7th or 8th grade students that completed Year 1 Cotillion and to all 8th grade students who have not yet taken Cotillion. The time for this class is 4:00 pm or 6:00 pm(if enrollment requires). The tuition for this class is $360.00 for the first student and $260.00 for the second and third sibling enrolled in this class.
Cotillion Premiere- This class is open to all rising 9th Grade students and all 8th Grade Students who have COMPLETED the Year 2 Junior Cotillion Class. All 9th graders who have not had cotillion before will be required to attend the two hour "Crash Course in Etiquette & Basics of Ballroom Dance". The date of the Crash Course TBA from 2-4 pm at NWFSC Ballroom.
The tuition for this class is $380.00 for the first student and $280.00 for the second and third sibling in this class or the HS Cotillion Club.
-HIGH SCHOOL COTILLION CLASS:
High School Cotillion Club- This class is open to all returning Cotillion students in Grades 10-12 and to new students this age who attend the two hour "Crash Course in Etiquette & Basics of Ballroom Dance Class." This date for the "Crash Course" is TBA, 2-4 pm, NWFSC. Tuition for this class is $380.00 for the first student and $280.00 for the second and third sibling.
-Classes begin in September and meet once a month on Sunday afternoons/evenings through February with balls/dances in December and March. Classes are One hour & 45 minutes in length. The High School schedule slightly varies due to the topic being covered as to what day the class will meet. It will be on a weekend.
-Class size is limited to 52 students with an equal number of ladies and gentlemen in each class. The equal ratio is waived for Pre-Cotillion Students! Also, Pre-Cotillion Classes are limited to 18 students per class.
(space is limited, registration will be closed once spots are filled)
To Register online:

Step 1- Go to the "register tab" above and enter your child's information.
Step 2- Once registration is complete, if a space is open in the class you will be prompted to the Payment page. You may pay online by PayPal or by check via snail mail. If you have an additional child to register then just add another student. All payments must be received within 5 business days to retain a place on the class roster. Tuition is due at time of enrollment unless special arrangements are made with the director. If payment is not received then your child's name will be dropped from the roster and filled with the next student on the "Waiting List." Checks are made payable to: NLJC Emerald Coast Chapter, P.O. Box 775, Niceville, FL 32588-0775.
Tuition: Membership dues are $320 for students in Year 1 (Grades 6th/7th), $360 for students in Year 2(Grades 7/8th) who are returning students and $380 for Premiere(Grades 8/9th) & $380 for High School Cotillion Club(Grades 10-12).. Tuition for Pre-Cotillion students is $150. The cost for the second sibling in Pre-Cotillion is $100.00 Dues include all costs for instruction, dances, refreshments, balls and dining out/theatre excursions. There will be NO refunds except in the following two cases:
1. Moving out of the area
2. Serious family illness
The above circumstances are set in fairness to students who are placed on the waiting list.
All classes for middle school students will be held at the Student Services Center of NWFSC. All classes for high school students will be held at the Northwest Florida State College. Special topic classes will be held at other locations. The Holly Ball will be held at the Emerald Coast Convention Center. The Black & White Spring Ball will be held at the Eglin Bayview Club.
About Director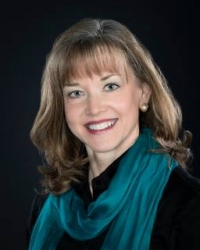 Joan Freeman is a graduate of Auburn University and Troy University with degrees in Secondary Education. She is a former high school social studies teacher in Okaloosa County, FL and Fairfax County, VA. She is an active member of Crosspoint United Methodist Church in Niceville and serves on the Capital Campaign Committee for the Eagle Ram Tennis Center. She is married to Lt. Col (ret) , USAF, Paul Freeman and is the mother of two daughters, Julia and Meredith, who are seniors at Niceville High School. In her leisure time, she enjoys ballroom dancing with her husband, playing tennis, and volunteering for their daughters' school activities.
She was selected last summer at the National League of Junior Cotillions Convention in Atlanta as hosting the "Best Parent Reception of 2015." Mrs. Freeman loves teaching and providing all the programs that the National League of Junior Cotillions offers to students on the Emerald Coast. Being confident in Social Etiquette is vital to success in so many ways for all future endeavors. The skills acquired through Social Dance also provide the poise and self-confidence that will benefit students in many of the wonderful social situations they will enjoy in the future. Good Manners never go out of style!!!